We are thrilled to announce that PARR and Makita together bring you an interactive tool demonstration event that is not to be missed! As part of this exciting event, Makita will take their tools on the road in a specially designed vehicle, showcasing their latest innovations and providing attendees with hands-on experiences that will allow them to truly appreciate the power and precision of these cutting-edge tools. This event promises to be a unique and engaging opportunity for anyone looking to expand their knowledge of Makita's products and improve their skills in the workshop or on the job site. So mark your calendars and make sure not to miss out on this incredible opportunity to see Makita's tools in action!
LIVE TOOL DEMO: Concrete/HEPA Tools, Concrete/HEPA Tools, Woodworking Tools, Outdoor Power Equipment, & More!
MAKITA DIT PARR Locations:
Friday, 4/28/23 Tacoma +
Wednesday, 5/17/23 Bend +
Thursday, 5/18/23 Burns
Tuesday, 5/23/23– Salem
Wednesday, 5/24/23 Raleigh Hills
Thursday, 5/25/23 MLK
Friday, 5/26/23 Vancouver
Monday, 7/12/23 Newberg +
Tuesday, 7/13/23 Hillsboro
Wednesday, 7/14/23 Ridgefield
Wednesday, 8/30/23 Spokane
For all the events, visit: https://parr.com/events/
Visit one of our Makita events to enter for a chance to win a Makita XT706 Cordless 7-Piece Combo Kit!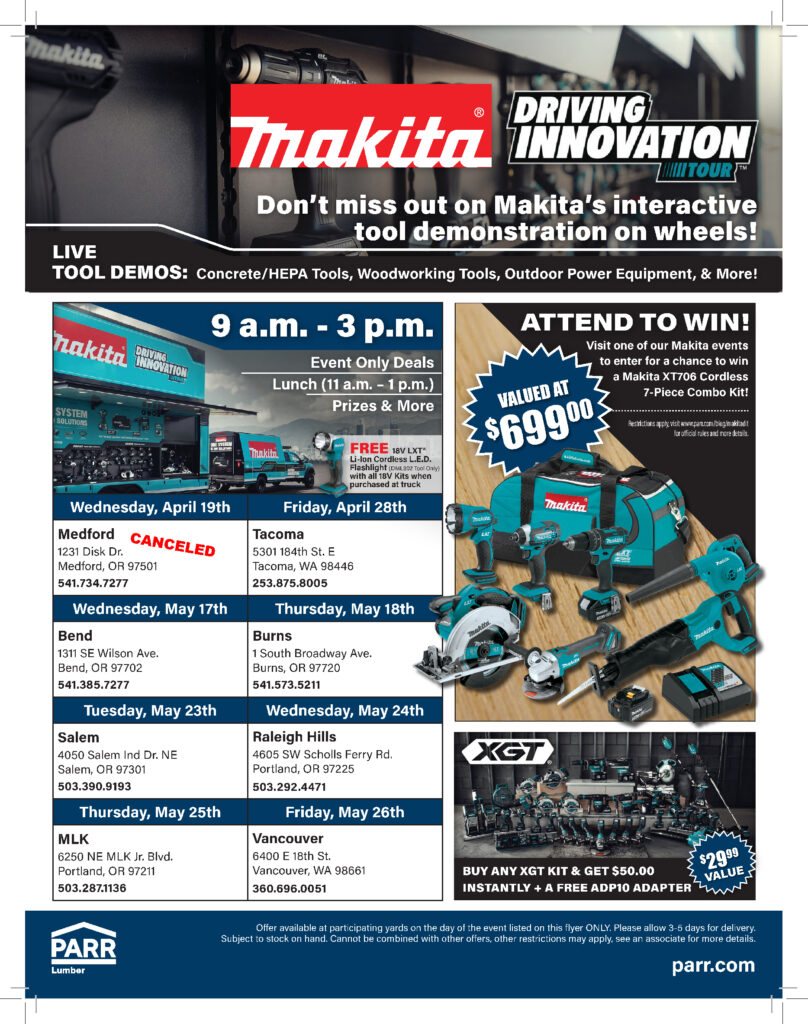 Consumer Disclosure: You have not yet won. No purchase or payment of any kind is necessary to enter or win. YOU MUST BE PRESENT AT THE PARR LUMBER MAKITA DRIVING INNOVATION TOUR ONE OF THE FOLLOWING DATES TO ENTER (UNLESS YOU ENTER VIA ALTERNATIVE MEANS OF ENTRY DESCRIBED IN THE OFFICIAL RULES). The tour is on the following dates at the following locations, from 9 a.m. to 3 p.m. Pacific Daylight Time: April 28, 2023 at our Tacoma store at 5301 184th Street East, Tacoma, WA 98446; May 17, 2023 at our Bend store at 1311 SE Wilson, Ave. Bend, OR 97702; May 18, 2023 at our Burns Store at 1 S. Broadway Ave. Burns, Or. 97720; May 23, 2023 at our Salem store at 4050 Salem Industrial Drive NE, Salem, OR 97301, May 24, 2023 at our Raleigh Hills store at 4605 SW Scholls Ferry Rd. Portland, OR 97225; May 25, 2023 at our MLK store at 6250 NE MLK Jr. Blvd, Portland, OR 97211; May 26, 2023 at our Vancouver store at 6400 E 18th Street, Vancouver, WA 98661, July 12, 2023 at our Newberg store at 200 N Elliott Rd., Newberg, OR 97132; July 13, 2023 at our Hillsboro store at 7650 NE Wagon Dr., Hillsboro, OR 97124; July 14, 2023 at our Ridgefield store at 1111 S Timm Rd, Ridgefield, WA 98642; August 30, 2023 at our Spokane store at 1411 E. Francis Ave., Spokane, WA. 99217; September 26, 2023 at our Springfield store at 1291 S. A Street, Springfield, OR. 97477; September 28, 2023 at our Prineville store at 601 N. Main Street, Prineville, OR. 97754; October 5, 2023 at our Albany store at 415 1st Ave. E, Albany, OR. 97321; October 5, 2023 at our Rockwood store at 18608 SE Stark, Portland, OR 97233. For Official Rules: Click here