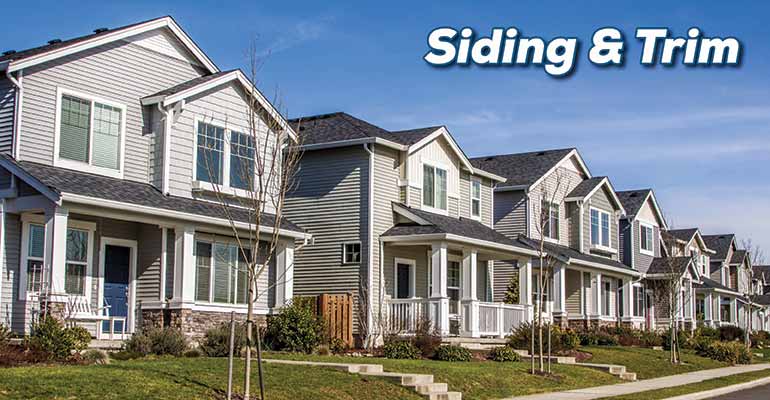 Finding the perfect siding for your home can be a daunting task. But Parr's team of building experts can help you navigate the many options. Considerations include: maintenance, durability, price, warrantee and ease of installation. Parr is committed to help you find a unique, customized solution that will improve the value, look and feel of your home. Our experts will also assist in the process of accenting the project with decorative elements and design options like trim.
Fiber Cement Panels & Lap Siding
Fiber cement siding is a popular option for homeowners across the Pacific Northwest. Among many attributes, it offers easy installation, durability and low maintenance. Made with recyclable materials, fiber cement siding is also an environmentally-friendly. If you are planning to re-side your home we offer a comprehensive referral service and will direct you to one of our experienced contractors.
Attributes:
Durable, high-quality siding options
Fiber cement lap siding panels are easy to install and low maintenance
Manufacturers include:
Vinyl
CertainTeed vinyl siding is an affordable, low maintenance exterior cladding. Both material and installation cost tends to be lower than other competitive substitutes. Care should be taken when applying vinyl siding to prevent buckling and warping. Consult a Parr professional to determine if vinyl is the right product for your next project.
Attributes:
Affordability
Easy installation process
Wide range of applications
Low maintenance
Manufacturer:
Plywood and Composite Wood Siding
Plywood and LP Smartside Wood Sidings have the advantage of easy installation and accept a wide range of finishes, giving your home a natural look. Both come in a variety of shapes and sizes to meet any building need, including: lap, stucco, reverse board and batten and shiplap patterns. They also support the environment by reducing waste, both in the production process and on the jobsite.
Attributes:
Cost effective
Quick, efficient installation
Available in a variety of shapes and sizes
Manufacturers include:
Western Red Cedar Siding
Cedar lap siding, a traditional Northwest cladding, stands out for its beauty and timeless appeal. While this style of siding can represent a more significant financial investment, many homeowners find that the superior aesthetics offered by real Western Red Cedar siding are worth the cost. Western Red Cedar is also naturally resistant to damage from insects and decay if applied properly and well maintained.
There are a multitude of custom styles and patterns available to match just about any restoration need given the wide range of widths and thicknesses produced, right here in the Pacific Northwest. Commonly used knotty and clear bevel sidings are available in both solid and finger-joint patterns, which can affect the price and finished appearance. A representative from Parr's customer service department can help you understand all your options and select the product that complements your surroundings.
Attributes:
Naturally durable with a rich, natural appearance and timeless appeal
Variety of widths and sizes available to match any restoration requirement
Manufacturers include:
Interfor
Terminal
Western Forest Products
Siskiyou Forest Products
More info: Cedar Siding
Siding Trim Products
Often the difference between a functional home and a beautiful one lies in the details. Trim and fascia provides that finished look and defining touch. The right trim can highlight period elements of your home, downplay less attractive architectural elements, or simply add personality and charm.
Parr stocks only the highest quality trim products, from real wood to durable wood substitutes and metal corners. Many homeowners prefer real wood while others take advantage of low maintenance engineered products that may come with extensive warranties and higher resistance to damage from insects and moisture.
Many of these products can also be formed into curves and other shapes for your architectural needs. A Parr associate can locate unique products and assist in selecting the right solution for any trim or fascia need.
Attributes:
Personalize your home's exterior
Match the historical details of your period home
Available in environmentally-friendly options
Manufacturers include:
Shakertown
Cedar Valley
Azek
Kleer
RealTrim, PacificTrim, SPF Primed by Woodtone
James Hardie Siding Products
Louisiana Pacific (LP) SmartTrim
Simplicity Tool
Centurion by Claymark
CedarOne by Weyerhaeuser
Natures Trim by Terminal
Forest Trim from I.W.P.
Trex Trim
More Information
See the siding section in our Product Selection Guide for more info.