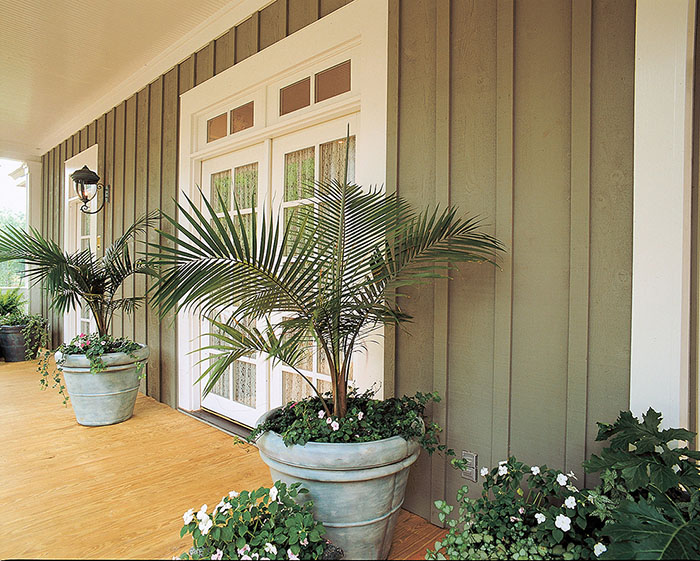 Photo courtesy of WRCLA
Board and batten siding is a vertical design created using wide clear or knotty cedar boards spaced apart with narrower boards (battens) covering the joins. There are no set board or batten widths with this cedar siding, but a common combination is 1″x2″ or 1″x3″ battens laid over 1″x10″ or 1″x12″ boards. This can also be reversed with boards installed over battens to create a deep channel effect.
Rough sawn, unseasoned boards or boards surfaced on one side and two edges (S1S2E) are commonly used for board-and-batten wood siding. Sizes range from 1″x2″ to 1″x12″.
Board and Batten Siding Grades
Grades for cedar board and batten exterior siding include Clear Heart, A Clear, C and Better Clear, Select Knotty, Proprietary, and Standard and Better.
| | | | | | |
| --- | --- | --- | --- | --- | --- |
| Clear Heart | A Clear | C Clear | Select Knotty | Proprietary | Standard |
Clear Heart
The highest grade. Includes only pieces with heartwood on the exposed face. Many pieces completely clear, others have minor imperfections that do not detract from their fine appearance.
A Clear
Permits somewhat more imperfections than Clear Heart but the grade is still restricted to pieces with excellent appearance.
C and Better Clear
High quality lumber for use where appearance is important. In addition to interior and exterior trim, lumber of this grade is used for cabinetry, doors, windows and similar applications.
Select Knotty
Knots are sound and tight. Other characteristics are limited so they do not detract from the end use intended.
Proprietary
Graded to the manufacturer's specifications to meet the intended end use. Boards often represent good value in the no-hole product range.
Standard and Better
Suitable for exterior construction. Occasional pieces may require trimming to yield suitable quality for the intended end use. Typically supplies as S1S2E products. S4S products may require special ordering.
Return to: Cedar Siding