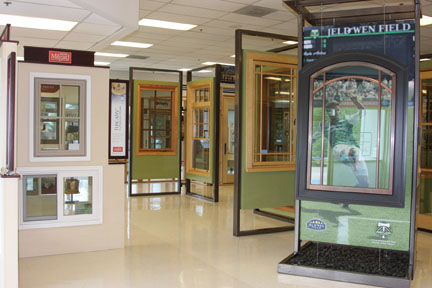 Parr Lumber announced that the leading building materials supply company opened its new window and door showroom in Aloha in October.
The new showroom features 2900 square feet of display space. Customers can view one of the largest selections of door and window displays in the Portland metropolitan area. Parr employs the most knowledgeable sales team in the industry at this location to help builders and homeowners find that perfect door or window for their project. Customers can count on professional advice from experienced professionals that have extensive industry experience and training.
The window area features each of the three top window types (vinyl, fiberglass and wood). The vinyl windows feature Jeld-Wen, Milgard, Cascade and Ply-Gem. Fiberglass windows include Marvin Integrity and Milgard and the wood windows include Jeld-Wen, Marvin and Andersen.
The door selection includes an all American made product from Therma-Tru, a fiberglass door. Another popular door featured is a line made by Simpson, manufactured locally in Washington State.
"Our vision with the new window and door showroom was to offer the largest selection in our area for the consumer under one roof, as well as to have the most experienced and knowledgeable staff available to help the consumer," said David Hamill, Chief Executive Officer of The Parr Company.
About the new Aloha window and Door showroom
Location: 755 NW 185th Ave in Aloha
Hours: Monday-Friday 7:00am-6:00pm and Saturday 9:00am-4:00pm
Phone: (503) 941-7100
About The Parr Company
The Parr Company consists of six distinct companies that provide building solutions and services: Parr Lumber Company, Parr Cabinet Design Center, Cascade Wholesale Hardware, NSC, NSCi and Parr Marketing Group.
Established in the Pacific Northwest in 1930 by Dwight Parr, Sr., The Parr Company remains a locally owned family business. Nancy Cranston, Michael Parr and Brad Farmer, grandchildren of the founder, play active roles in The Parr Company and continue the proud family ownership. Headquartered in Hillsboro, Oregon, Parr is the 18th largest building material supplier in the nation. Parr operates 38 facilities in Oregon, Washington and Arizona including pro/retail building material yards, contractor focused facilities and cabinet design centers.