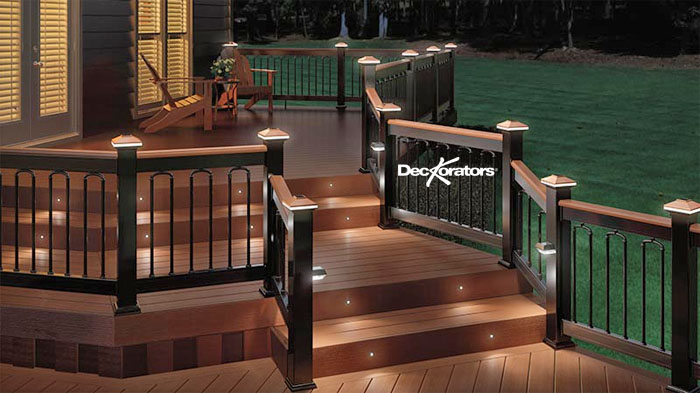 Deckorators originated the metal baluster category, throwing the doors wide open to more spectacular decks and other outdoor projects. Their vast product line offers a dazzling selection of every component you need to complete your outdoor living space in utmost style. So you can design an outdoor living space that expresses virtually any look you could envision. Or let Deckorators inspiring forms and originality take your imagination to a whole new, more enchanting place. Deckorators products are as durable and high functioning as they are attractive. Each is smartly engineered, made of top quality materials and finished for greater protection against the elements. So year after year of lasting beauty with minimal care is assured. Check out the KPTV 12 segment below about Deckorators.
Aluminum Railing
Deckorators aluminum railing offers a durable, black or white powder-coated finish designed to weather the elements. The railing system, with a robust profile and an eye-catching appearance, works with all Deckorators balusters, as well as an unmatched selection of post cap styles.
Balusters
Parr Lumber stocks the following Deckorators balusters. In addition, we can special order other items.
Classic Balusters
Estate Balusters
Architectural Balusters
Traditional Balusters
Scenic Glass Balusters
Post Caps
Parr Lumber offers a variety of baluster connectors, stair adaptors and connectors, baluster lights, post sleeves and base trim, cap rails, railing brackets and connectors, post mounts, deck mounting kits, cast stone postcovers, deck stones, accent lights (Designer Solar) and recessed lighting, and rail wire covers. In addition, we stock the following post caps:
Solarband Post Caps
Solar VersaCaps Post Caps
High Point Solar Post Caps
Solar Designer Wood Post Caps
Hammered Plateau Post Caps
Victoria High Point Post Caps
Metal Post Points
Low Voltage Post Cap Lights
Low Voltage VersaCaps Post Caps
Newport Post Caps
Victoria Plateau Post Caps
Hatteras Flat Top Post Caps
Hatteras Pyramid Post Caps
Hatteras Castline Post Caps
Designer Post Caps
High Point Post Caps
Cast Stone Post Caps
Solar Post Caps
Post Base Trim
Request a quote or ask us a question about Deckorators railings, balusters, post caps and lighting.