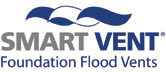 Dual Function SMART VENT®
Superior Flood Protection and Natural Air Ventilation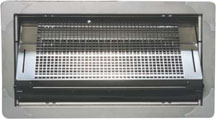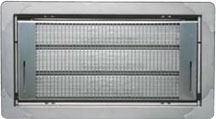 How it works:
Flood Protection: The Smart VENT® door is latched closed until flood water enters. Entering flood water lifts the patented internal floats which unlatches and rotates the door open. This allows the flood water to automatically enter and exit through the frame opening, relieving the pressure from your foundation walls.
Ventilation: A bimetal coil (like a thermostat, no electricity is needed) automatically opens and closes the ventilation louvers as temperature changes. They will be closed when it is freezing outside and open when it is warm outside to provide natural ventilation.
One 16" x 18" vent is certified to cover 200 square feet of enclosed area for flood protection and 51 square inches for ventilation.
SMART VENT® models are certified to provide flood protection and ventilation. This model is used for a home with a crawlspace or any enclosed area that desires natural air ventilation and flood protection. All stainless steel construction resists weather and pests.
| | |
| --- | --- |
| Model #: | 1540-510 (sku: SV510SS) |
| Installation Type: | Masonry Wall |
| Style: | louvered |
| Dimensions: | 16″ x 8″ |
| Rough Opening: | 16¼ x 8¼ (one block or CMU) |
| Finish: | Stainless Steel |
SMART VENT® Pour-in-Place Vinyl Buck
Vinyl buck insert for poured foundation walls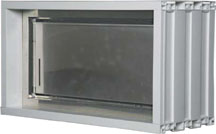 The Smart Vent® Pour-in-Place Vinyl Buck is made of high strength PVC. Each wall buck accepts SMART VENT® models 1540-510, 1540-511, 1540-550 and FLOOD VENT models 1540-520, 1540-521, 1540-560. Fully assembled units are shipped ready to install with a protective film and woodbracing that protects the buck and flood vent when the wall is poured.
Recommended Installation Instructions
Step 1: The Smart vent® Pour-in-Place Vinyl Buck should be properly located between the masonry wall forms (plum and level) and secured with reversible fastener into the wood nailing blocks. In the event that the fasteners can not be applied through the face of the forms, alternative approved fastening measures should be taken.
Step 2: The form cavity is filled with concrete encasing the buck. After the foundation is cured, the forms are stripped, revealing the Masonry Wall Buck. The wood block support system and protective film can be left in place until the foundation is backfilled.